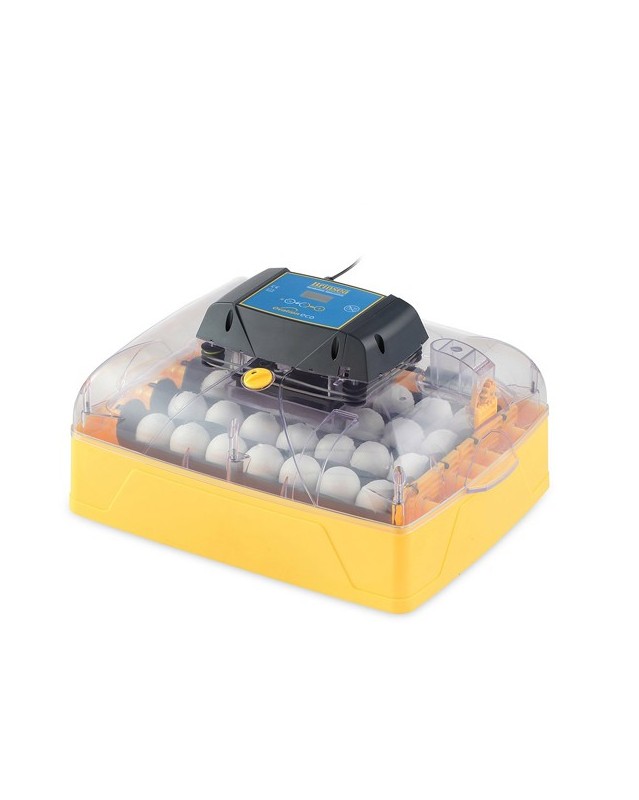  
Brinsea Ovation 28 Advance Ex
Brinsea Ovation ir pilnībā digitāli inkubatori ar automātisko olu grozīšanu. Brinsea Ovation ir jaunums un šie inkubatori ir izstrādāti, par galvenajiem mērķiem izvirzot to lietošanas vienkāršību un konsekventi augstus šķilšanās rādītājus. Funkciju daudzveidība padara Ovation inkubatorus pievilcīgus jebkuram putnu pavairotājam un ļaus inkubēt jebkāda veida olas. Brinsea Ovation 28 ietilpība ir 28 vistu olas, 28 pīļu olas, 48 paipalu olas un 48 fazānu olas. Papildus iegādājoties 
olu paliktni liela izmēra olām
, šajā inkubatorā iespējams inkubēt arī zosu olas. Šis pats lielo olu paliktnis ļaus palielināt paipalu un fazānu olu ietilpību. Caurspīdīgais korpuss ļaus skaidri novērot olas visu inkubēšanas laiku. Brinsea Ovation 28 Advance EX digitālais displejs attēlo inkubatora temperatūru un mitruma līmeni. Šim inkubatoram pēc noklusējuma ir iestatīta temperatūra vistu olu inkubēšanai, to ir viegli izmainīt digitālajā izvēlnē. Olas tiek apgrozītas automātiski, grozīšanas intervāls ir pilnībā programmējams. Brinsea Ovation 28 ir vairākas drošības signalizēšanas sistēmas: gan pazeminātas un paaugstinātas inkubatora temperatūras trauksmes signāls, gan arī īpašā telpas temperatūras izmauņu trauksmes signalizēšana. Brinsea Ovation 28 Advance EX ir integrēta automātiskā mitruma līmeņa kontroles sistēma: lietotājs ievada displejā vajadzīgo mitruma vērtību un, kamēr vien ūdens rezervuārā būs ūdens, inkubators izdarīs visu pārējo, lai nodrošinātu konstantu, precīzu mitruma līmeni. Brinsea Ovation inkubatoros ir iestrādāta jaunā "piespiedu duālā gaisa apmaiņas" sistēma (angliski, "Induced Dual Airflow"), kas ir jauninājums inkubatoru konstrukcijā un ļauj sasniegt ļoti augstus temperatūras vienmērīguma rādītājus optimāliem inkubēšanas apstākļiem. Brinsea Ovation inkubatoru platmasa satur Biomaster antibakteriālās piedevas, kas samazina inficēšanās un neizskaidrojamas embrija bojāejas riskus.
Tehniskie parametri
: Tipiskais elektrības patēriņš (W): 30 Maksimālais elektrības patēriņš (W): 60 Inkubatora svars: 3168 g Brinsea Ovation 28 ir pieejams trīs modifikācijās: 
Eco
, 
Advance
 un 
Advance EX
. Pārskatāms šo modifikāciju salīdzinājums ir attēlots zemāk redzamajā tabulā.
Brinsea Ovation 28 modifikāciju funkciju salīdzinājuma tabula:
| |      Eco |   Advance | Advance EX |
| --- | --- | --- | --- |
| Automātiskā olu grozīšana | x | x | x |
| Digitāls displejs | x | x | x |
| Inkubatora temperatūras izmaiņu trauksme | x | x | x |
| Telpas temperatūras izmaiņu trauksme | x | x | x |
| Periodiskas olu dzesēšanas iespēja | | x | x |
| Mitruma līmeņa attēlošana displejā | | x | x |
| Pilnībā automātiska mitruma kontrole | | | x |
No customer reviews for the moment.