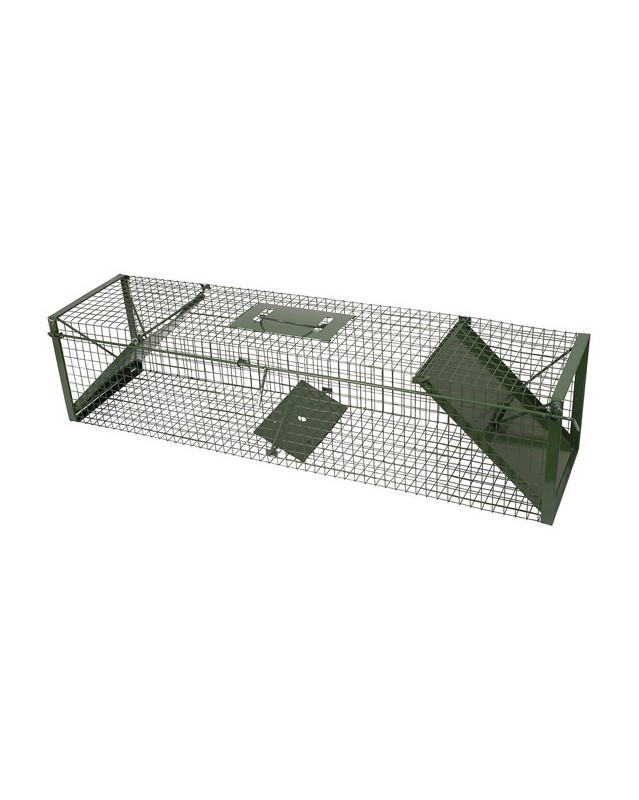  
Trap For Predator 102Cm X 21Cm X 27Cm
Placing a trap:
Lift the door into horizontal position and fix it. Shift holder of the door underneath, so that it overlaps holder of the plate. Put the bait (fragrant smoked meat, grilled bacon, peanut butter, fish etc.). Caution!
When releasing an animal wear thick working gloves. Find natural tunnel (for example, bush, cave etc.) and position the trap so that the animal could freely pull away, would not bite or scratch. Release the animal in its natural environment. Recommendations:

It helps a lot to distribute crumbs of the bait through all the length of the trap bottom and to put small bait amount near the trap door. Sometimes animals are very smart. Therefore, it is recommended to wear gloves when in contact with the trap or when putting bait. It would prevent from leaving smell on trap elements. Good results may be reached using two baits at one time, for example, when placing an egg inside and hanging fish. It is very important to select a place for placing a trap. Predators avoid going into open space. They often move along walls of the buildings, in the openings between obstacles. These are the places, where you should look for their traces and place traps.
No customer reviews for the moment.